What's on at Thatches and surrounding South Devon
Modbury Walk
and Talk
Tuesdays 9:45am – Poundwell Meadow car park
Modbury Walk and Talk is part of Walking for Health in South Devon The walks are led by trained, friendly, volunteer walk leaders who will be sure to give you a warm welcome. All walks are free, all you need are comfortable shoes, loose-fitting clothing and waterproofs if wet. And do bring some money if you wish to stop for refreshments afterwards.
https://www.modbury-walk-and-talk
Conservation Award Winning Site at Thatches
Caring for our environment at Thatches has always been very important to us and we are delighted to have been awarded the David Bellamy Gold Conservation Award for the 13th year in a row. Huge thanks to our onsite manager, Chris Duff, and his amazing team for creating a thriving haven for local wildlife that we are very proud of.
Bring your
best friend
At Thatches we understand how much your dog is part of the family and four-legged friends are always welcome! We have plenty of great woodland trails from the park and can guide you to the best local beaches, walks and restaurants for you and your best friend Our dog-friendly lodges are very popular. Book early so you don't miss out!.
Kingsbridge
Farmers Market 2022
Head over to Kingsbridge Farmer's market for a fantastic range of locally grown seasonal fruit, fresh fish and crab (of course!) meat, baked goods including cakes, pies and pasties, chillies and chocolate. There is also a range of local craft shops – ideal for a mooch! Head to the Town Square on the first and third Saturday of the month from 9am-1pm.
Own your own luxury lifestyle holiday home
Owning a home in South Devon could be more affordable than you think. Investing in a lodge in one of the country's most sought after holiday destinations could be the best thing you ever do! Take a look at our show home here or call us on 01548 830346 to make an appointment to come to our next open day. We also take bookings for private viewings. Chris and his team will be happy to help.
Cinema Room
Netflix, Disney, Apple TV.
We'll be showing a selection of films and sporting events throughout the year – look out for the monthly programme. With proper cinema seating and a big screen, it's almost as good as the real thing – and the best bit is it's all included in the price of your stay at Thatches.
Watersports
in South Devon
Whether it's speed and adrenalin you're looking for or a pastime that's a little more relaxing, you'll find there's something for everyone on the water in South Devon! The many beautiful beaches, bays, coves, estuaries and rivers in the area provide the perfect backdrop for some fun on the water. We have a large selection of watersports equipment including kayaks, surfboards, paddleboards and wetsuits available for use, free of charge, for guests and lodge owners at Thatches.
Your perfect holiday
lodge staycation
Invest in a lodge and enjoy a staycation for you and your family all year round! Take a peek at our luxury lodges, designed for all seasons and nestled in the heart of one of the most stunning and sought after UK holiday destinations. Buying a lodge could be the best investment you'll ever make! Visit Benefits of Lodge Ownership to find out more. Or why not call us now 01548 830346 / 831000 to arrange a viewing?
Live your best life
in fabulous Devon
A recent survey reported in the Guardian reveals that Devon has the best quality of living in England and Wales! You are more likely to enjoy a happy and fulfilling life in Devon according to the study. "If you live here you can be on a beautiful beach in 20 minutes and you can be hiking on Dartmoor in 20 minutes…and enjoy an amazing quality of life." As if we didn't know! If you'd like to own your own little piece of South Devon, check out our lodges for sale.
Easter at
Thatches 2022
Easter Egg Hunt 2022 – Saturday 16th April 2022
Modbury Fair
Dates TBC
Don't miss the Modbury Fair which runs over a week in May and is packed with fun for all the family. Pop along to enjoy fairground games and rides, tug of war, the Modbury Mile run, the carnival parade and much much more! With something for everyone of all ages, this is another super event that's just a short walk from Thatches. Visit their website or look out for the fair programme for the detail.
Kingsbridge Food & Music Festival
Fri 27th – Sun 29th May 2022
We can highly recommend a visit to the Kingsbridge Food and Music Festival for a feel good, family day out. It's a non-profit party designed to showcase the eclectic sounds and tastes of the local area. It's a three-day extravaganza with a great vibe. There's also a fabulous Kids Zone with workshops, face painting, craft sessions and more. The festival takes place in May each year
Salcombe CrabFest
1st May 2022
An entertaining day of cracking crab fun for all the family, Salcombe Crabfest is in its fifth year. A celebration of Salcombe's exceptional fishing and tourism industries, this action packed charity event has various cooking demonstrations from acclaimed chefs both local and national, as well as tempting street stalls, culinary competitions and live music. A fantastic day that not only showcases Salcombe's world famous brown crab, but also raises money for local charities.

Brixham Pirate Festival
30th April- 2nd May 2022
A swashbuckling mix of pirate fun and entertainment. As well as pirates, there will be military and period re-enactors with guns and cannons, as well as live music, singing sea shanties and pirate rock. Come and be part of the pirate celebrations, there will be street entertainers as well as a Shanty Town. A fun day out for all!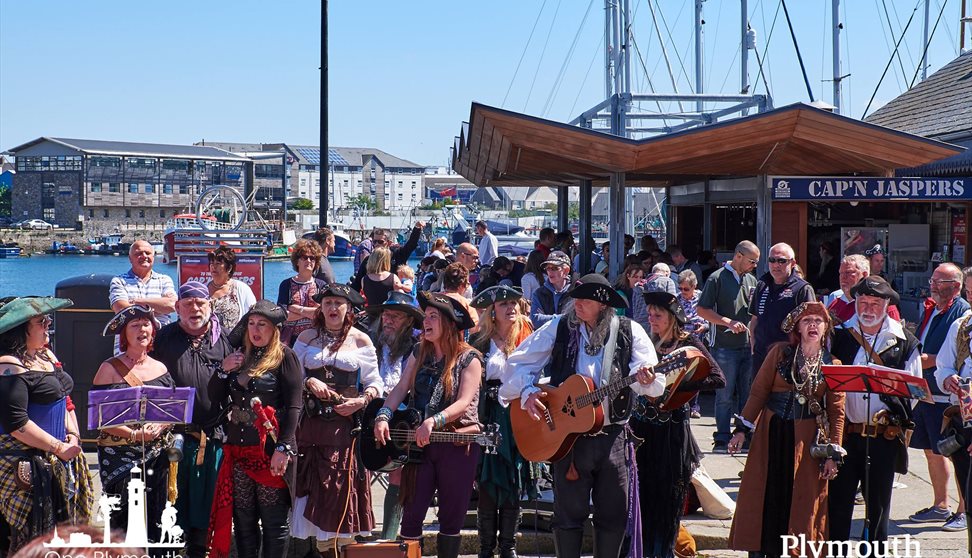 Pirates Weekend Plymouth
7th May – 8th May 2022
Plymouth Pirate weekend is a must for any pirate fans, jump aboard the two tall ships that will be docked in Sutton Harbour and see what it was like to be a pirate sailing the high seas. There will be Plymouths very own Captain Jack Sparrow, Jonty Depp, and his evil adversary Captain Barbosa as well as story time with Melody the mermaid.
The sound of sea shanties will fill the streets as well as puppeteers and a giant Octopus soft play activity centre.
Dartmouth Music Festival
6th May – 8th May 2022
In its 23rd year, Dart Music festival continues its annual musical celebrations.
With over 100 performances spanning almost every musical genre, the festival offers an eclectic mix of orchestral, rock, choral, blues, opera, folk and jazz performances. Events are held all over Dartmouth, in a range of venues both indoors and outdoors, including various hotels and pubs as well as in two churches, on the bandstand as well as outside the castle. A fun weekend for any music lover.
English Riviera Air Show
Provisional dates 4th – 5th June 2022
The English Rivera Airshow is set to return this year for a full weekend of amazing air displays and great activities. The two day show takes place on Paignton Green with the bay providing an impressive natural amphitheatre for viewing the air displays, its just the perfect location for a large coastal airshow event, with lots of activities for all the family to have a wonderful day out.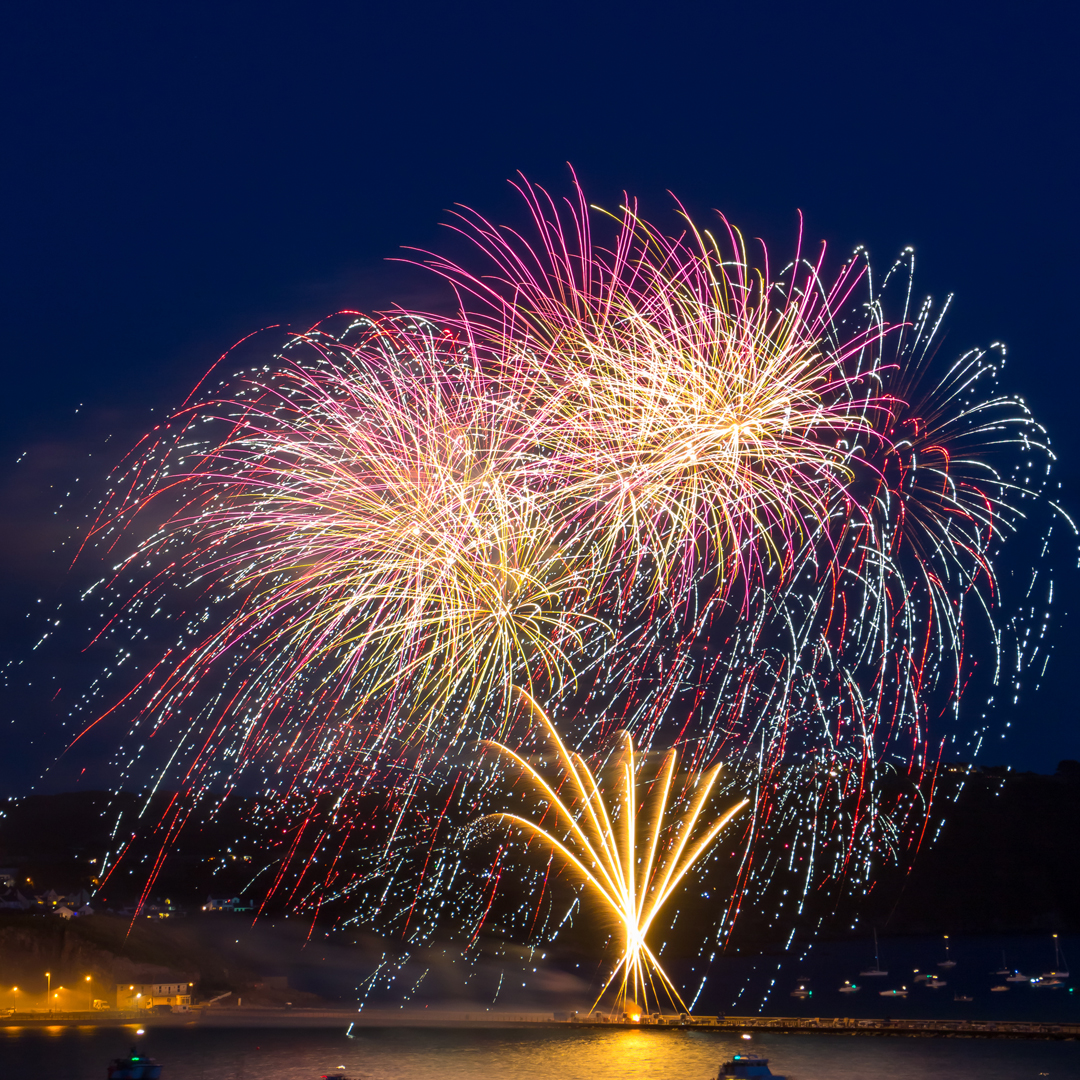 British Fireworks Championship – Plymouth Hoe
17th – 18th August 2022
The most anticipated event in the city's calendar will see thousands of spectators heading to the Hoe for two evenings of spectacular entertainment culminating in spectacular fireworks displays from 6 companies seeking the title of British fireworks Champions. However this year they will be seeking an extra special title, as the winners from the past six years will be returning to compete for the ultimate title of Champion of Champions.
Kingsbridge Fair Week
16th – 23rd July 2022
The fabulous Kingsbridge Fair has been around for over 500 years! It takes place in and around the town in July and features a host of exciting activities for all to enjoy. To find out what's on you'll need to purchase a programme from the Kingsbridge Information centre – but expect a host of fun community events including a 10k run, a raft race, 'Stars in Your Eyes' night, lantern parade, crazy quiz, street food and live music for starters.
Salcombe Regatta
30th July – 6th August 2022
For more fun than you can shake a stick at, head to the Salcombe Regatta which takes place annually in August. Serious sailors can enter the exciting regatta events, and there are plenty of family-friendly festivities for all to enjoy. There's a Harbour Swim, boat show, fun run, raft racing, beer festival, live music, art exhibitions, hog roast, slime making, donkey rides, face painting, beach yoga and much more! Visit their website for entry forms and more info.
Kingsbridge Show
3rd September 2022
The Kingsbridge show is a great day out for all the family. Admire the entries in horticulture, floral art, home crafts and domestic pets. As well as the judging of horse, cattle, sheep and more. The Grand Parade is a must for watch with the winners being announced. With over 100 trade stands, seventy craft stalls and lots of local food and drinks to choose from, the show is not to be missed! There will be displays of vintage and modern tractors as well as a display of classic cars. The children's pets corner and bouncy castle is there to keep your little ones entertained, as well as live folk music and a licenced bar.
International Agatha Christie Festival
10th – 17th September 2022
For Agatha Christie lovers, a pilgrimage to South Devon is a must! Thousands of fans visit each year to immerse themselves in the area which inspired her imagination and her world-renowned crime fiction. Timed to coincide with Christie's birthday, the International Agatha Christie Festival takes place in Torquay and features talks, exhibitions and vintage themed events. For more information visit the website.
Lights on
at Modbury
Modbury Christmas Lights "2022 dates TBC" marks the start of the Christmas festivities with an evening of seasonal celebration. At 6pm Church Street will be closed to traffic. Get there early to have the best view of Modbury Royalty, the procession of school children and the marching band. Modbury shops will remain open during the switch on and will be offering free food and drinks.
This is a superb community event, and great fun for all the family.
Kingsbridge Celebrates
Christmas 2022
This event just keeps getting better and better!  Father Christmas will be sure to make an appearance!
The farmers market will be set up in the town square, and surrounding streets will feature stalls selling Christmas gifts and crafts, and hot food such as hog roasts and Christmas puddings. There will also be live entertainment and late-night shopping